Location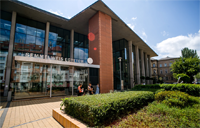 Basic Medical Science Center of Semmelweis University
H-1094 Budapest, Tűzoltó utca 37-47.
semmelweis.hu/eok/en
Official language
English
Registration deadline
31 July 2018
Faculty
Lecturers:
Pasquale Bianco (University of Fluorence, IT)
Attila Borbély (University of Debrecen, HU)
Beáta Bugyi (University of Pécs, HU)
Miklós Kellermayer (Semmelweis University, HU)
Balázs Kiss (University of Arizona, USA)
Mihály Kovács (Eötvös Loránd University, HU)
Marco Linari (University of Fluorence, IT)
Justin Molloy (UK)
Miklós Nyitrai (University of Pécs, HU)
Zoltán Papp (University of Debrecen, HU)
Tamás Radovits (Semmelweis University, HU)
Massimo Reconditi (University of Fluorence, IT)
Practical tutors:
Gergely Agócs (Semmelweis University, HU)
Tamás Bozó (Semmelweis University, HU)
Tímea Feller (Semmelweis University, HU)
Katalin Kispetik (Semmelweis University, HU)
Zsolt Mártonfalvi (Semmelweis University, HU)
Hedvig Tordai (Semmelweis University, HU)
Scientific Program
Please click on the name of the performer to view her/his presentation.
Tuesday
28 August
Wednesday
29 August
Thursday
30 August
08:30-10:00
Muscle structure (Marco Linari, Massimo Reconditi)
Actin (Miklós Nyitrai)
Cardiac contractility I (Zoltán Papp, Attila Borbély)
10:15-11:45
Muscle mechanics (Marco Linari, Pasquale Bianco
Actin-binding proteins (Beáta Bugyi)
Cardiac contractility II (Tamás Radovits)
12:00-12:45
Practical I: single muscle fiber mechanics, multi-photon microscopy (Katalin Kispetik, Hedvig Tordai)
Practical III: optical tweezers, measurement of titin elasticity (Zsolt Mártonfalvi)
Practical V: AFM of muscle proteins (Tamás Bozó, Miklós Kellermayer)
13:00-14:00
Lunch
Lunch
Online Moodle test
14:00-15:30
Muscle cytoskeleton I (Miklós Kellermayer)
Motor proteins I (Justin Molloy)
15:45-17:15
Muscle cytoskeleton II (Balázs Kiss)
Motor Proteins II (Mihály Kovács)
17:30-18:15
Practical II: single-molecule force spectroscopy (Tímea Feller)
Practical IV: In vitro motility assay (Gergely Agócs)
19:00
Dinner, social programme
The program is supported by EFOP 3.6.3 and MedInProt.

Registration fees
(including 21,26% VAT)
| | |
| --- | --- |
| Undergraduate students, PhD students, post-doctoral fellows | 300.00 EUR |
| Students of the Doctoral Schools of Hungarian universities, as well as of the Targu Mures University of Medicne and Pharmacy | 0.00 EUR |
The fees include tuition fee, lunches on 28 & 29 August, and dinner on 29 August.
The number of participants is limited, applications will be evaluated by the Faculty. Applicants have to submit their professional CVs including details of their scientific activity (scientific student groups, publications, conference presentations, etc.). E-mail: regisztracio@kmcongress.com
Hotel
(Prices including 15,25% VAT)
On behalf of the Congress K&M Congress Ltd. has reserved hotel rooms for the congress participants.
Reservation can be made via the congress registration form. Reservations will be made on a "first come - first serve" basis against full payment.
Di Verdi Hotel

H-1096 Budapest, Thaly Kálmán u. 43.

Website Map
single room
90.00 EUR
double room
105.00 EUR
Prices include buffet breakfast, use of wifi, taxes. Parking available for 15.00 EUR.
Verdi Grand Hotel

H-1091 Budapest, Üllői út 89/B.

Website Map
single room
90.00 EUR
double room
105.00 EUR
Prices include buffet breakfast, use of wifi, taxes. Parking available for 15.00 EUR.
Procedure of payment
(bank charges must be paid by the Registrant)
1) online by bank card via a secure bank connection
2) via bank draft made payable to K&M Congress, account no: IBAN HU28 1040 0212 5052 6666 7250 1014
K&H Bank, H-1095 Budapest, Lechner Ödön fasor 9. Swift code: OKHBHUHB
Cancellation and refund
In case of cancellation
until 31 July, 2018 80 percent refund of the fees paid;
from 1 August, 2018 no refund.
Refund requests must be submitted to the Conference Secretariat in writing.
Registration
You can register the PhD Summer School as well as the EMC2018 below.
GENERAL INFORMATION
Weather
The weather in the first week of September is usually warm in Budapest, daytime temperature ranges between 22-25 ℃, however, nights are already cool (between 11-13 ℃). Rain may occur.
Dress
is informal at all occasions.
Visas
Holders of passports issued by several countries are granted, under bilateral agreements, visa-free travel to Hungary. For a full list please visit the Consular Services website: konzuliszolgalat.kormany.hu/visa-waiver-agreements
Currency, exchange, bank cards
The official currency is the Hungarian Forint. Exchange facilities are available at the airport, in hotels, at banks. ATMs are available throughout the country. American Express, Visa, Diner, Eurocard, MasterCard, JCB cards are mostly accepted in hotels, restaurants and city stores, but you should ask before ordering a service, or buy.
Insurance
The Organizing Committee does not assume responsibility for injuries or losses occurring to persons or personal belongings during the conference. Participants are therefore advised to carry the proper travel and health insurance.
Electricity supply and phone
In Hungary electricity is supplied at 230 V, 50 Hz like in most European countries. The 2-pin connecting plug is different from that used in some other countries (e.g. USA, UK, Japan etc.). Phoning and mobile servicing background is according to European standards.
Travel
By public transportation: Hungary lies at the crossroad of the main tourist traffic in Europe. More than 30 regular and low cost airlines operate flights to and from Budapest. From Budapest Visegrád is accessible by bus or boat.
For timetables please visit the websites:
www.bud.hu - Budapest Airport flight information
www.volanbusz.hu - bus timetable
www.mahartpassnave.hu - riverboat and hydrofoil timetable
By car: Toll must be paid on motorways. Annual, monthly and ten-day vignettes are available. www.hungary-vignette.eu